Come Home to Your True Self:
Heal Narcissistic Abuse, Codependency & Chronic Physical Illness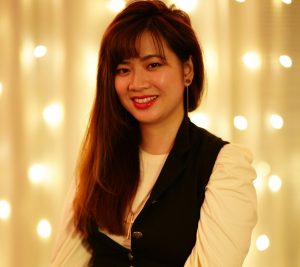 You Can Heal Narcissistic Abuse, Codependency & Related Chronic Physical Illness

Your disease to please others, walking on eggshells in relationships, compulsive caretaking, constant fantasizing, perfectionism and the intense need to control, go faster and chase for more is all creating dis-ease in your body and your sovereignty to live your authentic expression 
Are you tired of your nervous system being stuck looping in fear, depression and negativity?
It's time to get the help you need,
to break free so you can start living your life.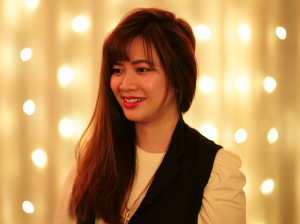 The True Health Course Library & Therapy Membership

Specialized in Healing Complex Trauma and Related Health Issues
Heal: Eczema, Vulvar Dermatitis, IBS, Cancer, Candida, Leaky Gut Syndrome, Endometriosis, Chronic Fatigue Syndrome, Parkinson's disease, anxiety, depression and addictive/dysfunctional relationships
Heal: the chronic anxiety keeping your body in chronic illness that comes from: C-PTSD, Developmental Trauma, Borderline Personality Disorder, Dissociative Identity Disorder, Narcissistic traits and Codependency
Heal: emotional/behavioural root causes that keep your body and nervous system in a state of chronic unsafe feelings and fight/flight mode and begin healing those states
Heal the stress in your relationship dynamics and personality


WHAT YOU CAN ACHIEVE WITH THIS COURSE LIBRARY MEMBERSHIP:

Cultivating a safer and a more regulated nervous system
Cultivating safer relationships
Resolving long-term persistent health issues
Transforming intimacy and relationship issues from toxic love to greater authenticity, true acceptance and true love.
Move forward with career aspirations and business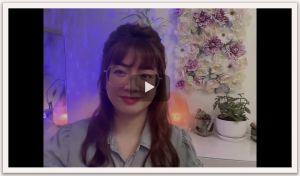 3 STEPS IN THIS COURSE LIBRARY FOR DEEP AND ACCELERATED HEALING
Learn to heal emotional triggers efficiently and effectively at the nervous system level.
Deep emotional processing at the embodied level.
Gain emotional, psychological and spiritual awareness in patterns of Narcissistic Abuse, CPTSD and Codependency.
Become aware of how to heal destructive, chaotic and sabotaging relationships
Combine Emotional Intelligence Skills and Awareness of Integrating Shadows
Save 5+ years of healing time when understanding all facets of deeper complex trauma, narcissistic abuse and codependency.
5 Core Principles from this Course Library to Reclaim Your Voice and Own Your True Self
The Missing Link Was Your Soul and Connection to God
YOU ARE THE ONE YOU'VE BEEN LOOKING FOR
You have been frustrated in healing with traditional therapists because they do not have the expertise in healing personality complexities and stored emotional stress in the body. Often what I hear from my clients is that they have tried several therapists before but something was always missing. You may have read the articles and books related to the topic of narcissistic abuse but how it has affected you is a different story. There is no healing modality that is going to heal you, IT'S YOU arriving to yourself that is going to stop resisting what is and let go of the control of who you are.
02
TRUST YOURSELF DEEPLY IN RELATIONSHIP
You may feel confused because of the control, manipulation and gaslighting. You may not even know that this trauma is affecting you in certain ways because of brainwashing from a narcissist. Perhaps you have become a covert narcissist yourself. All you know is that your relationship is full of fighting, the silent treatment or coldness that is constantly hurting you. Unlearn the lies in your head, clear your heart and trust yourself again.
03
TRUST YOUR BODY'S SYMPTOMS
What you can trust however is your body as the body does not lie. Chronic health issues (candida overgrowth, leaky gut, IBS, eczema, endometriosis) are symptoms telling you that you've abandoned your true self and ignored signals.
04
TRUST YOUR VOICE AND INSTINCTS
You can also trust your inner voice and gut feeling that this relationship is not the safest. You don't feel like yourself, you have a hard time knowing who you are and you want to have your voice.
05
FEEL SAFE WITHIN YOUR BODY AND PERSONAL EXPRESSION
Becoming your true self and feeling safe deep within is what you really want but with all the things you have read and the help you've gotten or healing modalities you've tried something is missing. With the right guidance, it is possible to heal from the inside out and recover from health issues and constant relationship challenges.
Your Diagnosis, Family Trauma, Relationship Trauma, Addictions, Shame, Victimhood, Dependency & Negativity Do Not Define You
There is nothing your soul and the human spirit can't overcome. You created an ego identity to survive and repressed/suppressed your emotions and voice.

Now your symptoms of awakening are calling you to shed what no longer belongs to you and to come back home to your soul.
The True Health Course Library Membership
Includes Course 1 and 2 Modules (+16 hours of content) + New Healing Upgrades, See What's Inside Below

The Modules of Course 1:
How to Heal Emotions to Heal the Body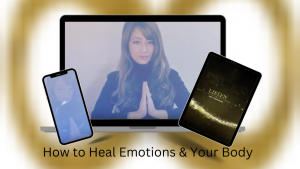 5 Full Modules ~ 360 min (6 hours of content)/ 36 Video/Audios (Value $1200)
If we do not allow the emotions to be felt and we resist our emotional experience, then pain and suffering will remain.
"Whatever we resist persists"
The techniques in this course are founded on Mindfulness and letting go. Muscle-testing and stress reduction studies both show that when you process repressed emotional trauma in the body, you release the stress that is contributing to an over-active and stressed-out nervous system and in turn, the bowel system, therefore allowing the bowel and immune system to heal itself.
Throughout childhood experiences and traumatic events, it is common that us to dissociate from our bodies to cope with the experience. When we are raised in a culture and society that does not welcome negative emotions and the broad spectrum of human emotion, we begin to disown those emotions. When there is extensive shaming, invalidation and an unsafe emotional environment, we then learn to repress and suppress our emotions. This becomes a long-term habit and our emotions then become dysregulated and chaotic. We feel depressed, experience highs and lows, and feel numb or too much.
This course aims to guide you into healing the years of unprocessed emotional stress and trauma. This course shows you how to begin the process, how to get into your body and process various kinds of difficult emotions, validate, express and feel.
Course 1 Content
Guiding you on how to heal, allow and let go
of what no longer serves you.
Module 1: Embodiment
Intention, Prayer And Getting Into The Body (5 videos):
What Is The Allowing Approach
Clarity With Allowing Approach
I Don't Know If I'm Doing This Right When I Allow
How To Allow And Let Go
Allowing Demonstration
Allowing Meditation
Anxiety Meditation
What Are You Afraid Of Meditation
How To Process Emotional Resistance and Breath Work (6 videos)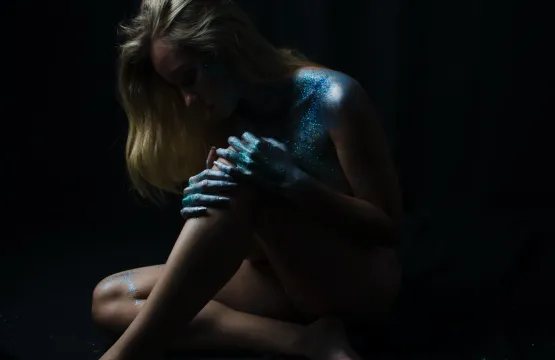 How To Validate And Express Emotion
It Is Crucial To Heal Anger
Resent To Rest Meditation
I Want To Feel Calm And Happy All The Time
Should I Stay With My Sadness
When You Feel Alone In This Condition
When You Feel Like Everyone Has A Better Life
What To Do When You're Feeling Worried About Health
Emotional Acceptance Meditation
How to Process Difficult Digestive Symptoms (8 videos)

Your advice is the answer to my gut issues. After trying your technique once, I already felt better but know there's a long way to go in releasing all this deep-rooted emotional baggage. Thanks, Tracey <3 ~Vital health pursuit
"You allowed me to understand something really important: I think self-hatred is the root of many psychosomatic and self-immune disorders… I believe self-love is the key to a strong immune system." ~ Pedro G M
"Hi Tracey I just want you to know that you helped me cure my eczema, I followed all your instructions and boom, my eczema is almost completely gone. Thank you and I love you!" Mj Gagan
"You have such a Call on your life from God to help others heal…inside out….I'm in tears. This hit home for me…."Mamie Jay
"You have helped me see why my son had chronic eczema by exposing the pain inside I had and projecting it onto my son. As I healed from my emotions, my son has healed from his eczema that no dermatologist and expensive medications and steroids could not do for my son, when the problem was with the parent like I was. Thank you Tracey for showing the way to feel and experience the TRUE let go, let God in this life. Wow, keep sharing this." Robert S
I have been struggling with an auto-immune disease (ulcerative colitis) for over four years and I fully believe in a psychosomatic to approach my sickness I have had incredible results (along with the help of medicine, but the dose has become lower and I'm doing better than ever). Thank you Tracey from Nashville, TN!! For the walk you have done before us and for connecting the dots towards healing! ~Derrick Frey
You explain things in a way that is very heartfelt and intuitive, not intellectual and dry which I find really helpful. You teach in a very juicy, human way which I think is great and a breath of fresh air. My physical symptoms have definitely improved significantly, though slowly. This has been down to general health improvements but also this emotional processing. I have come a long way and am much more open, honest and courageous than I was. It is now becoming much more of a natural habit than a 'practice' which involves effort and constant reminding myself. ~Matt Clarke
For me, the most helpful was your meditation. Feeling my body and not resisting symptoms like bloating, pain etc. Generally, my belly has improved with all the symptoms. I know now that I can have a better connection with myself. Now I'm more aware of my body. ~Kinga B
"I was afraid of Candida. Guess what? I can have the ice cream and I don't have candida! You were right, I would heal from it and I'm eating now normally. I eat everything. I'm not too strict. I eat pizza and pasta. OMG" ~Paola B
I am finally getting relief from my panic attacks and anxiety disorder because I no longer see these feelings as something to fear and resist, but an opportunity to realign with and heal my body. I will use this approach for the rest of my life, thanks again, Tracey! ~Ellie G 

"I notice I have less bloating"
"My belly sensitivity is going down"
"My skin has improved so far"

"Conscious breathing is easier to do daily, especially when I'm really stressed out and start to feel anxious and it helps too."

"The breathing exercises helped me connect with my body right before falling asleep"
"I feel the anxiety meditation was easy and I like doing this and feel better after. The same is Allowing Approach and Relaxing Belly Meditation"
HEAL BY FEELING, NEEDING & LEADING YOU FIRST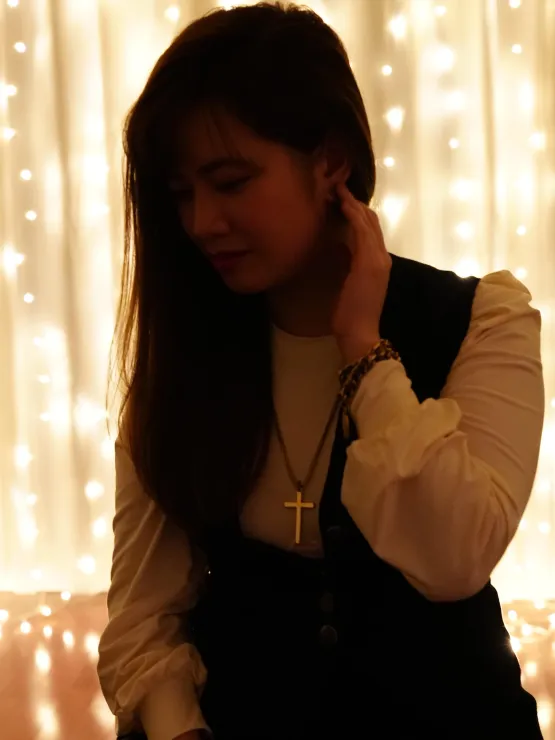 Your Years, Significant Relationships & Body Matter:
Don't waste years just aimlessly feeling emotions and processing longer than necessary and cycling in negativity
Without awareness, we can repeat the same relationship patterns unnecessarily for years, sabotage our important relationships and stay stuck in careers we don't want to do.
Streamline years of healing time
when understanding all facets of deeper complex trauma, narcissistic abuse and codependency.
Save your exhausted nervous system from being stuck in survival fight-and-flight mode. Excess cortisol levels increase aging and disease in the body. This is the home you live in for the rest of your life. Heal yourself today.
The Modules of Course 2:
How to Heal Narcissistic Abuse, CPTSD & Codependency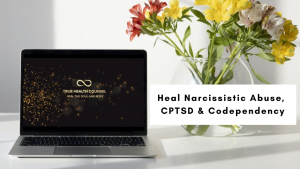 8 Years' Worth of Healing Wisdom Included (Value $2000)
Heal the Power Struggle, Perfectionism and Addiction in Relationship
10 Modules – 58 Lectures and Meditations (~ 10 hours) on the Following:
Healing Narcissistic, Addictive and Trauma-Type Of Relationships
How to Heal Emotional Trauma and Triggers
How to Embody The Healing So The Physical Body Can Heal
The Psycho and Relational Dynamics of Victimhood Identity, Covert Narcissism, Codependency and Dissociative Identity
How to Heal Control And Power Struggles In Relationship
How to Heal Complex Post-Traumatic Stress Disorder, Autoimmune and Chronic Sexual Health Issues as a Result of Long-Term Narcissistic Abuse
How to Heal Chronic Resentment and Defensiveness
Deep Nervous System Healing Based Meditations
Introduction to Relational and Mindfulness Psychology and Embodiment
Healing Narcissistic Victimhood and Victim Identity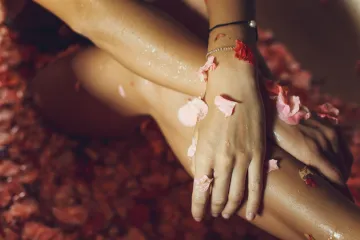 Healing Control Issues and Power Struggles
Understanding relationship dynamics, covert narcissism and codependency
About Dissociative Identity Disorder
Healing Control, Defensiveness and Chronic Resentment
How to Heal Narcissistic Abuse, C-PTSD and Codependency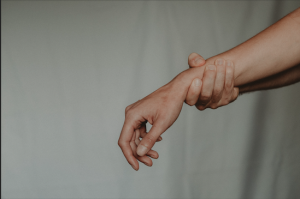 How to Heal the Nervous System Meditations
Bonus: Chronic Sexual Health Issues – How to Deeply Heal Emotional Trauma of Endometriosis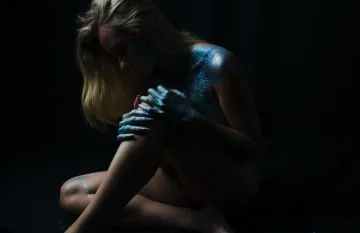 Module 10:
The Core Healing of Narcissistic Abuse and Codependency (Value: $1000)
How To Heal The Inner Control Dynamic
How To Heal Self Gaslighting
How To Heal The Oppression Of Your Voice
How To Heal Insecure Attachments
How To Heal The Addiction To "Faster, More And Now" Urgency Culture
How To Heal Dissociating Into Fantasy Addiction
How To Heal Being Stuck In Perfectionism
How To Heal Painful Loneliness After Letting Go Of Addictive Trauma Bonds
How to Heal Anxious Trauma Bonds
How To Heal The Codependent Self To The Authentic Self
Let Go of Control and Let God Take the Wheel
You are Enough, You are Safe, You Trust in the Flow of Life
How to Heal External Validation From Work
A Reflection of All the Healing
Healing is not linear and personality disorders such as narcissism, dissociative identity, codependency and borderline need time to understand and become aware of the dynamics and behavioural patterns. Deep stresses that come with complex post-traumatic stress disorder and intergenerational trauma do not heal overnight – though they can be greatly accelerated with guidance. So that's why I created this course library membership with my books for further support.
I created and kept almost a decade's worth of healing downloads along the way when I was healing in the thick of developmental traumas and helping clients heal, so you'll find the lessons you need along the way in this library subscription.
New videos/audio and modules are added regularly to support you.
Tracey is a kind, mature and confident therapist. She has helped me a lot in building my confidence and recognizing my self-worth. She has helped me with how I can put boundaries in my relationship with my parents as it is not the healthiest of relationships. I understood and felt way more than I would have by just talking about my concerns. With her help, now I have made good progress in handling my anxiety…this much progress was done in just 4 months. I highly recommend her services. ~Jyoti Bhaskar 
"I have to say that working with Tracey has been an absolute pleasure. I had developed patterns over the years that weren't serving me and I wanted them to be broken. We worked together for just under a year, and I could feel and see the progress I had made in such a short time working with her. She helped me learn new skills to help me move forward in all areas of my life. She helped with a very troubling time in my life—probably the hardest thing I've had to deal with up until now. We are always growing as people and so even though I feel I'm in a good place, I'm still looking forward to future sessions with Tracey." ~Ortiz Peggy 
I used to use techniques like meditation, psychotherapy, and hypnotherapy before, I just felt like trying something different/new. I was a bit stuck with some patterns which needed to be untangled. The most memorable was the technique of "psycho-drama" when Tracey presented my friend on the chair to whom I was supposed to present my deep feelings. I have difficulties expressing feelings through words and that technique helped me to experience embodied feelings and express them through WORDS. I am a very open and straight person when I feel safe in the environment. Tracey was able to create such an environment where BODY-MIND-SPIRIT can heal all at once. ~Veronika Gold 
I can easily say that working with Tracey has changed my life! I've felt supported and encouraged throughout the process of healing, and have experienced a tremendous amount of growth in all areas of my life. Some of my ng-standing health conditions have begun to improve as a result of working with Tracey, and my body, mind, and relationships have healed in ways I once didn't think possible. I've begun stepping out of feeling like a victim, and into my own power. I have grown aware of the patterns that feed into my hypothyroidism/burnout. I'm beginning to see improvements in my IBS through emotional work (update: healed IBS).  Exploring how emotions/traumas/states are stored in the body has been fundamental to my journey. I've felt so many shifts in my life (body/spirit/and mind), and am so grateful for those. One effect of our work has been developing new, healthy relationships in my life – such a blessing!!! Tracey is an incredible healer and a divine force on this earth. ~ I.M 
I've made significantly more progress from a few months of healing with her compared to the years and years I invested in other forms of therapy. I came to Tracey to heal my childhood trauma and some of my psychosomatic symptoms caused by my emotional and sexual trauma and despite the short amount of time I healed with Tracey, I truly feel like I'm finally liberated from most of the pain that's been plaguing me for so many years. I truly feel like my soul ascended and leveled up and I can genuinely say that I've put my emotionally wounded inner child to rest. I no longer ruminate on the past and I finally feel like I belong to myself and live a me-central life after serving the needs of others for most of my life. I spent so many years belonging to someone else, whether it was my mother, my boyfriend, or my friends. Tracey helped me come "home" to my soul and my life finally feels like it's authentically mine. I feel like a completely different person since I started seeing her and I truly believe that she saved my life. I couldn't have made it this far in my healing journey without her help and deciding to heal with her has been the best decision I've made for my mental health. Tracey has been the most essential part of my journey and I can't express how grateful I am for our time together. ~Celine Joo 
"I met with Tracey at a time when I sought clarity and peace of mind. Within minutes of meeting her, it was apparent that she cares for her clients. We dove right into the matter rather than going through all the formalities, which I preferred. Using a client-centred approach, she focuses on you – what is it that you need to ensure you live the life you love. She is honest, insightful, and raw. She listens attentively and tends to ask those tough questions that you're so afraid to ask yourself. She provides you with "soul work" to complete, keeping you on track and accountable for your own healing. I am thankful that I've crossed paths with her. Thank you for all you do Tracey! Your work is deeply appreciated and thank you for shedding your light with others." ~Suzanna T.
I came to Tracey Nguyen in order to heal feelings of depression from a breakup. Tracey was able to help me identify and interpret themes of codependency in past relationships and experiences of narcissistic abuse in family contexts. Working with these themes has provided me with insights that help me manage my emotions in the present and improve my overall mental well-being. An example of a behavioural shift would be less avoidance of situations of possible rejection and being able to express my needs to others with a direct voice. I noticed I was better able to process and experience emotions related to grieving and rejection in a healthier way. I have also found that the quality of my dating life and friendships has improved as I become more connected with my emotions and experience at the moment. My healing journey with Tracey brings inspiration to my heart and soul, I am provided with sound advice and challenged enough to create the interpersonal changes that I value in my life. She has also taught me about co-dependent behaviours, setting boundaries, and releasing what no longer serves me (and my body!) to live a lighter and more authentic life. I am forever grateful for her energy, support and time and look forward to more sessions with her throughout my journey. ! K.H
With Tracey's guidance, I'm unlearning negative habits that contributed to the unhealthy ways I was dealing with my issues. I'm also becoming aware of my boundaries and have more confidence to enforce them to protect my well-being. When I would feel triggered emotionally, I'd let people cross my boundaries and react without thinking. I'm now able to notice the feeling before reacting, observe it, realize it's from a past wound, and communicate accordingly. I used to experience bodily twitches from suppressing intense emotions, headaches, and digestion issues. The emotions would build up and come out in unhealthy behaviours and wreaked havoc in my body. It's improved since receiving therapy and am continuing to heal. She's helped me go deep into my emotions and provided alternative methods to manage them better. By releasing the emotions that were trapped within me through music, art, and therapy, I've felt lighter, and happier, and have been feeling more like myself again. My continued path to healing with her has helped me find the pieces of my authentic self. I'm so very grateful to have found Tracey and to have her as my therapist. ~Christine Pham 
Tracey came into my life at a time when I had already had a lot of therapy but I wasn't really getting anywhere. I felt like something was missing. Until I came to understand that what I had experienced was parental narcissistic abuse. Finally, something made sense. So I went onto the internet to find an expert in the field to consult with and that's how I found Tracey. Not only did Tracey have a thorough understanding of Narcissistic Abuse, but she lived through it. Just knowing she really understood what I was going through was so instrumental in the therapy process. Tracey guided me through what Narcissist Abuse really looked like and how it related to my upbringing. I felt like I could finally put all the therapy puzzle pieces together. She's a Narcissist translator. I realized that for years my parents and I were speaking different languages. Now, thanks to Tracey, I finally understand them and why they behave the way they do. I realized that so many of my behaviours and habits that kept me safe in a traumatic childhood environment no longer served me in my present adult life. I am reacting so much differently now that I understand myself and my childhood. I have boundaries now, which I never had before. And I have forgiveness and compassion for myself, maybe even a bit for my parents. My childhood trauma no longer dictates my life and I feel like now I can finally heal and move on. I am excited for the future! ~Alyssa Rushton 
I searched endlessly for a therapist and something about Tracey stood out as a great match for me. I was drawn to her expertise on codependency issues and her holistic approach to healing. My work with her thus far has really helped me make sense of ongoing difficulties in my life and helped shift my perspective on things. She feels like a professional friend. She's easy to talk to and creates a comfortable environment where I can share openly. I've really benefited from our role-playing activities, as they've helped me develop my communication skills and build confidence. Overall, Tracey has helped me identify the obstacles holding me back from participating fully in life and forming healthy relationships and is guiding me to overcome these obstacles. ~Natalia Paz
Finding Tracey was a serendipitous encounter, and I could not have asked for a better fit. She made me feel comfortable opening up from the start and taught me to sit with whatever I am experiencing – to feel it wholly, question it, and process it. She has also taught me about co-dependent behaviours, setting boundaries, and releasing what no longer serves me (and my body!) to live a lighter and more authentic life. I am forever grateful for her energy, support and time and look forward to more sessions with her throughout my journey. ~Jannell L 
I have had a wonderful experience with Tracey – It has helped me on so many levels by redirecting my emotions, helping problem solve with simple solutions and exploring my experiences deeper. I felt validated, heard and respected…feeling like it was very productive, empowering and a lot to reflect back on. It differs from the past in a way that I didn't get a generic response/solution. Tracey is wonderful. ~ Cindy Tran
I've been in therapy for a while and have tried different therapists, but I've always felt like something was missing. Tracey's approach to treatment is deeply spiritual and aligns with my values and who I am as a human being. I'm so grateful that we can dive deep on a soul level and unlock traumas that have impacted my ancestors and me. ~ Yosha Khan

WE ARE ON A HEALING JOURNEY, TOGETHER
Hello, I'm Tracey
I've been a nurse since 2011 and transitioned my career into psychotherapy in private practice. My psychological approaches are complex trauma-informed, gestalt, mindfulness, Jungian (shadow), existential, soul-based, psychosomatic and embodied, including family systems and relational theory. My spirituality is grounded in Buddhism and Christianity, I believe in God and work towards embodying Christ always as I resonate most with these spiritual principles.
I have the lived experience of healing myself from complex trauma and chronic illness for 10 years. I have the testimonials and results of clients since 2015 healing from anxiety, IBS, eczema, candida, Parkinson's disease and cancer as deep healing can un-do many chronic illnesses and the development of chronic disease and cancers. My long-term clients are all healing from narcissistic abuse, borderline personality, dissociative identity, codependency and trauma-bonded relationships.
I invite you to do this healing work with me and go back home to yourself. I would be honoured to guide you.
Sincerely,
Tracey
If you still have questions about this course library membership, you may book a free consultation by directly emailing me:
truehealthcounselling@gmail.com
ATTN: All courses and mentorship do not replace medical treatment. This is a means to supplement and support your healing.
This course library content and mentorship are not subject to the laws and regulations of any professional, licensing or governing body but were created by the opinions of Tracey from her lived experience of healing.
This course library content is not to be held responsible for your healing results and is not a claim for a cure for any disease.
CAN THIS BE COVERED BY INSURANCE?
No, this is not direct therapy services.
WHAT IS THE REFUND POLICY?
This is a direct investment for direct help, therefore any access to the content and mentorship will not be eligible for a refund.
HOW DO I ACCESS THE CONTENT?
You will have immediate access to information after your purchase has been made.
HOW LONG DO I HAVE ACCESS TO THE CONTENT FOR?
Full payment and full access to the content
HOW CAN I CONTACT SUPPORT?
Send us an email with any questions. Please allow 1-2 business days for our reply
CAN I CANCEL MY COURSE MEMBERSHIP?
Cancel anytime. The minimum recommended time is 3 months
WHAT PAYMENT METHODS DO YOU ACCEPT?
We accept all major credit cards and Paypal
HOW LONG WILL IT TAKE TO HEAL?
It depends on how deep your trauma is and how much time you have committed to the healing, however, the teachings inside this course library can save you years of healing time.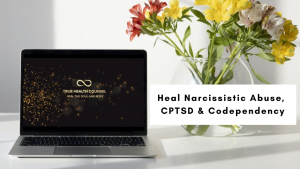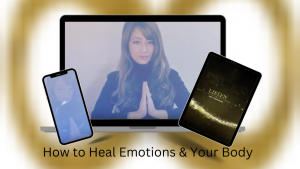 How to Heal Emotions to Heal Your Body Course 1

How to Heal Narcissistic Abuse, CPTSD & Codependency Course 2

Access to courses 1 and 2 for the full scope of healing your emotional trauma body, personality and relationship dynamic

Using both courses together will help you avoid the pitfalls of cycling in only healing emotions or staying stuck in narc-victim and codependent behaviours and personality struggles

New lessons and modules are added regularly
Any questions you have about the content or if you need extra guidance, Tracey will answer your questions and can create new content to support you further